Today is Thursday. And what does that awesome fact infer?


Oh yes, that tomorrow is

Friday

.
Which means the weekend.

It had been awhile since I'd textually danced, filled with bliss for my love of weekend anticipation.

What do I have planned, you ask?



Nothing.



And that fact in itself is nothing short of

delicious

.

I'm very excited, can you tell?

I'm also excited because a couple of days ago I got my very first moolah for writing - that means I'm actually a

professional writer

now, and can call myself such....at least that's what they tell me :) I got a chapter in a book published some time last fall, but who knows if it's been printed yet (or even if it

will

be, considering that this was before the economic slump). Besides, if there aren't any funds, I don't consider it pro. Even now, I don't really consider myself professional because I won't believe that until I'm making a sizable chunk of my monthly income from writing - if it

don't

pay the bills, it

don't

count as professional....to me, at least.

All this one paid for was my new lovely coffeemaker that I ordered from Overstock (love that site!) on Tuesday: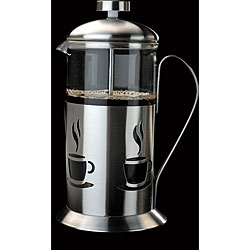 But wait, I don't drink caffeine...often.

However, the Santa Monica pier concerts start next week. If we go, it will be cutting a bigger piece of my REM cyclage out than I'm comfortable with. As in, miserable Fridays from sleep deprivation. I love them, though, and so does T - even more than me, in fact.

I made him this deal.

I'll go to the concerts with him every Thursday night if he'll get up pre-dawn with me every Friday morning and make me coffee :)

I think that sounds fair.

On that note, here's today's whiteboard quote:
"Whatever you can do, or

dream

you can, begin it. Boldness has genius, power, and magic in it."
~Goethe



Now get busy!