I've learned a valuable lesson this week and it is that yes, sometimes, you absolutely do, in order to be a functional and fulfilled and healthy human being, have to be a

bitch.



(enter my realization that there is a time and place for every

bridezilla

to emerge)

Before I begin my story, let me just say that if you live in Amarillo, TX, do not, I repeat - DO NOT - get anything of value altered at Sara's Alterations on 34

th

and Bell. Sure, get your pants hemmed there. But if this is a piece of clothing that means something to you,



run the other way.



(screaming is optional, but recommended. If you scream a four letter word or two, I won't judge you. In fact, I did the same thing myself, in the comfort of my own closet, on the phone with my mother, yes, but I did...)

If you read my blog on any sort of repeated basis, you'll know that I don't talk much smack. I don't badmouth anyone and try to do the same for anything - in fact, I was sent a book last summer and asked to review it for a publishing company, and after I realized it was horrendous and I'd be lying if I said anything positive about it, I contacted the publisher and told them that I wasn't comfortable giving the review - I say that if you can't say anything nice, keep those typing fingers still. So they sent me a better book to review. :)

Case in point, that's why I didn't mention that I saw the

Wolfman

movie on its opening weekend, which just happened to be Valentine's Day this year, I believe. That's cause it was awful. And I'm saying this now, cause I think if you haven't seen the movie you won't see it, I'm not influencing you.

It's my belief that we're pulled in the directions we travel because of good feelings - attraction, intrigue, curiosity, beauty. I don't think we should spend a moment idly thinking about bad stuff, because that just attracts it into our lives. You know, we've all seen The Secret. Those principles.



But.



In the interest of honesty and of giving you snapshots into my life (after all, isn't that one of the points of blogging at all?) and so I don't have to repeat this story a gazillion times for my friends who read this blog, and because, as I said, God forbid that ANY other bride-to-be go through this bunch of baloney, I'm about to tell you all the gory details.

I was advised to go to Sara's Alterations because of a friend who says she's good (it's an individually owned place). I don't know, however, whether my friend has gotten any dresses or formal attire altered there...I'll have to check.

Anyway, since we've spent the spring in Texas, far away from the wedding in Virginia, I brought my dress with me, to get it altered down here.

I'd gotten it made nearly in my size already (not exactly though because of

weightage

I'd gained over the rich-food holidays), but the main problem was that I have an extremely high waist that you could either say is Fantasia fairy style,
or Olive Oil style,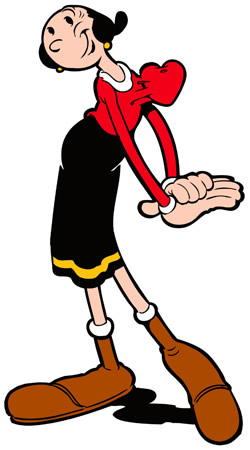 depending on how you look at it.

So all the dress needed was to have the waist raised. Yes, it was a little tight too, but hello, it's SUPPOSED to be tight in the way that it was, and I was about to lose a bunch of weight via raw, vegan food (and

yeppers

, I've lost just about 20 lbs. I think I'm evening out now, no weight loss in over a week, however only my yoga clothes and maxi dresses fit anymore so it's time to go shopping...)

So I go in, try on the dress for her, describe how only the weight needs to be raised, point, here and here and there,

and she shakes her head. No, she tells me, it's too small. It needs to be let out some.

Okay. Here's where MY lesson came in. Throughout this process, I've learned that I need to stick up for myself. In this situation, I figured that she, as a professional seamstress, knew more than me. And you'll see what happened.

So, I go back when she tells me to, a couple weeks later. Yep, I make the hour and a half drive to Amarillo, and the dress isn't ready.
REALLY?
My number is right there on the card attached to the dress hanger. She couldn't have called me and told me not to come?

But I didn't worry, she was backed up, it's Spring and prom time and all that. I came back the next week, and tried on the dress.

And of course, it didn't fit at all. Not a lick better than it had been before, just different.

But she steamrolled me again, told me what it needed, DIDN'T LISTEN TO WHAT

I

SAID, and I left.

A few weeks later, a THIRD trip, and this time I also brought in my reception dress (for the 2

nd

reception a week after the wedding,

that'll

be in my fiance's home town in PA), which just needed to be taken in a little. And sure enough, this time the dress STILL didn't fit, and she still didn't really listen, and not only that, but SHE was put out that I wasn't ready to take it home!

So I left both the dresses after she pinned the second one to be taken in (yes, I know this was a stupid moment on my part but I'm not from here and would have no clue about where else to go).

Come back next week.
Okay.

So I go back, and only the first dress is ready. Again, she couldn't have given me a call? I would have just waited!

But I took it, and T's pants to his wedding attire which had needed to be hemmed (and were fine, I assume), and went home.

I did try it on again once I got home and I'll be honest, I don't like it. There are creases where there shouldn't be and space where things should be tight. There's tightness where things shouldn't be. It's just not good work, especially considering how many times I had to go back.

OH. And not only that, but she charged me nearly what the entire dress COST. I didn't think much of it (although as she told me the price, she looked at me sideways and seemed to say "I'm being defensive about the price in case you contest it because I think you will because I'm WAY overcharging you - are you going to say anything?")



I'm sorry.

I didn't know I was supposed to HAGGLE WITH MY

FRIGGIN

SEAMSTRESS. My bad! I thought, you know, you do a service, tell me what it's worth, and I pay you. I don't expect to be cheated and I REALLY don't like it.

So, the following week, which was yesterday, I called HER in the morning to make sure my dress was ready before I made the drive. In looking for her number online, I found her website with the price list of her services.

Wanna know what I found out?

That, according to her OWN price list, she charged me

more than double

what it should have cost to alter my wedding dress, EVEN if she had re-charged me for each of my visits.

Not cool.

And when I mentioned the price list online during our phone conversation, she instantly got defensive and confrontational. If she'd been above board, why the panic attack? I was calm. She started going nuts. Obviously something was up.

So we hurried down to Amarillo, to pick up the dress. T came with me this time, and I could tell she was a bit intimidated (which I'm ashamed to say, made me happy) by his straightforward manner and gaze.

(my, how I love my fiance)

First, she said I was there early, when I'd come at the time she'd given me. I said I'd just take the dress as it was (she said it wasn't finished), and after she disappeared into the back for awhile, she emerged and asked if we could wait 15 minutes for her to finish the dress.

We thought about it, and agreed. Yes, I may have to take it somewhere else, but I might not, and so what's 15 minutes?

She brought the dress out after awhile and hung it up. No thanks, I wouldn't be trying it on, I'd just take it. What was the total?

Again, a gross overcharge but this time she came out with an hourly rate that wasn't listed anywhere, or even mentioned, and can totally be faked, obviously (and probably was, since I doubt she started working on my dress before the day I picked it up).

So I wrote a check, loaded the dress into the back seat, and we went home. I was just relieved to have it in my hands.

After we got to the house, I put our groceries away, washed off my makeup (I have a newfound obsession with sunbathing in the warm afternoons. It's not the tan, it's the AWESOMENESS - my body is loving the sun lately, I just feel so calm and relaxed and healthy when I'm lying there, soaking up rays. The tan doesn't hurt though), and before I went out, decided to try on my dress I'd just picked up.

Here's the kicker.



At the top of a side seam under my right arm, a two inch piece was taken in so much that there wasn't a HOPE of zipping the dress.



Now I see what she'd been doing for that last 15 minutes.

My frame may have slimmed a bit, but there is no way my ribcage has expanded by three inches in the past two weeks.



Dirty.



So, I promptly went online and stopped payment on the check I'd written that day and sent her an email. Now I'm in the process of reporting her to the Better Business Bureau (say that 5 times fast) in Amarillo.

Drama!

On a bright note, when I called my mother hysterical because of lost months and hundreds of dollars, she informed me that just this weekend, she'd been at a party at the house of our wedding caterer, who's also a friend of hers.

His sister is a seamstress.

Mom called her last night and she said that sure, this happens all the time, it's no big deal, and at the two week prewedding mark that I'll arrive in Richmond on, I can bring in the dresses and she can fix them.

What's the moral of this story? Well, there are two.


#1)

When you know about your OWN stuff, don't let someone steamroll you and tell you that you're wrong. This goes for teachers, doctors, and especially seamstresses. I've had each of them proved completely wrong before, and not without a fight.



#2)

It's no biggie. Every difficulty is an opportunity for us to learn and grow. As soon as you figure out what the lesson is, fixing the problem falls into place.

And an added moral: Sometimes you need to be a bridezilla. I wasn't this time, and wish I had been. But considering how smooth this whole wedding planning business has been, I think that I'll take it :)



Happy Friday!

Go enjoy your weekend, I'll be laying in the sun!